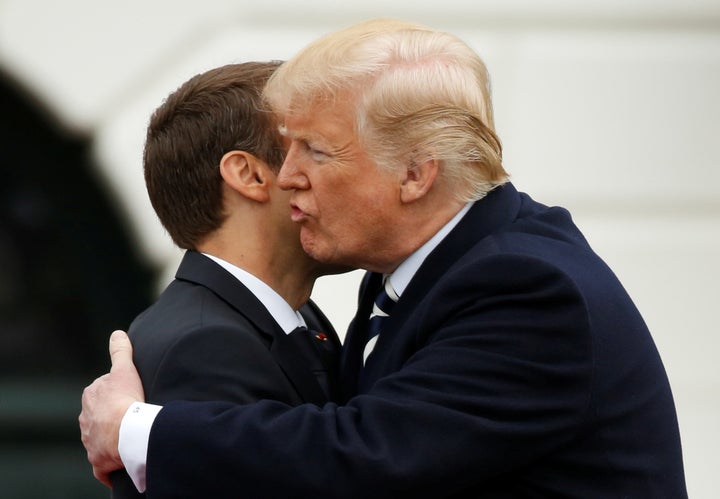 President Donald Trump once again drew laughs over a bizarre embrace with a world leader, this time involving French President Emmanuel Macron.
The two heads of state awkwardly clasped hands in an unsure but vigorous shake before pulling together for a European-style kiss during a news conference at the White House on Tuesday that sparked laughter from the crowd.
"I like him a lot," Trump declared after their quick air smooch.
The cheek-to-cheek kiss, called "la bise" in French, was not the first between the pair since Macron's arrival on Tuesday morning.
Macron pulled Trump in for a similar smooch outside of the White House earlier in the day, a warm gesture that Trump again reciprocated.
At another point, Trump reportedly brushed "dandruff" off Macron's shoulder before pronouncing him "perfect."
The two were also seen holding hands as Trump guided Macron away from reporters, drawing some jabs on social media.
Trump appeared to have a hard time pulling off the same moves with his wife, first lady Melania Trump, with her wide-brimmed hat turning into a kind of force field to kisses and her hand just not getting the hint, video shows.
Trump has repeatedly made headlines over his awkward-looking embraces with fellow world leaders.
Instances have included his long handshakes with Tajikistan's president, Emomali Rahmon, and Japanese Prime Minister Shinzō Abe, as well as his forceful handshake with Macron at the NATO summit in Brussels last May.
Then there was the time he failed to shake the hand of German Chancellor Angela Merkel.
Whichever way you shake 'em, here's to an unbreakable bond between Trump and Macron.
Source:
https://www.huffingtonpost.com/entry/trumps-awkward-kiss-emmanuel-macron_us_5adf711ee4b061c0bfa26be4 ...
and provided by
video-cutter-online.com